Pedro L. Escobar 1938-2018
Pedro Escobar MD, former Medical Director of the St. Mary's Rehabilitation Center and member of the PCMS Board of Directors, passed away on January 29, 2018. He was 79.
Born August 15, 1938 in Cali Valle, Columbia, Escobar attended medical school at Universidad Del Valle in his home town and graduated in 1964. He interned at Flower Hospital in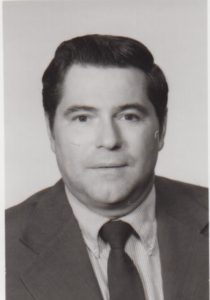 Toledo Hospital before focusing on Physical Medicine. He completed residencies at the University of Alberta Hospital and University of Utah Affiliated Hospitals.  He remained in Salt Lake City and practiced physical medicine and rehabilitation in Salt Lake City from 1972-1984.
After moving to Tucson in 1985, he joined the University of Arizona Department of Rehabilitation Services. He was also on staff at Carondelet St. Mary's Hospital where he was named Medical Director of St. Mary's Rehabilitation Services. He was selected to the National Board of Medical Examiners in 1989.
Escobar was active in PCMS from 1985 until his retirement in 2007. He served as an alternate delegate to the Arizona Medical Association from 1990-1992 and was elected to the PCMS Board of Directors in 2002.
He is survived by his wife of 50 years, Mary; daughters Maria (Mark), Christina (Mathew) and Carla (Seth); grandchildren Phoebe, Zachary, Mason and Lucas as well as five siblings. A rosary and funeral mass was held at Saints Peter and Paul Church in Tucson. Donations may be made to the Travis Roy Foundation for individuals with spinal cord injuries.