Because of the COVID-19 virus, please confirm live conferences/trainings/workshops are still scheduled. Pima County Medical Society will do its best to keep information updated. 
2022 Otolaryngology Virtual Resident Research Symposium
Friday, June 10, 2022
3-4 p.m.
Join via Zoom Meeting: https://arizona.zoom.us/j/81767048198
Join via Livestream: https://streaming.biocom.arizona.edu/streaming/29988/event
3 p.m. "Real-Time Volume Rendering to Predict Anatomic
Relationships in Middle Ear and Lateral Skull Base
Approaches" Samuel Barber, MD
3:15 p.m. "Endoscopic Trans-Pterygoid Resection of a
Low-Grade Cribriform Cystadenocarcinoma
of the Infratemporal Fossa" John Richards, MD
3:30 p.m. "Operculum Width and Hearing Loss in Enlarged
Vestibular Aqueduct" Andrew Johnson, MD
3:45 p.m. "Evaluating the Aerosolization of Tracheostomy in a
Porcine Model" Matthew Groysman, MD
4 p.m. Adjourn
Wellbeing Collaborative: Supporting Health Care Workers
Fourth Tuesday of the month
4 p.m.
A Wellbeing Collaborative for Health Professionals has formed in Arizona. Participation requires no dues or formal commitments as the Collaborative focuses on sharing lessons learned, best practices, and other practical resources.
The Wellbeing Collaborative serves as a resource for you to utilize, whether you are an organization or a health care professional. Our goal is to promote the importance of keeping our health care professionals uplifted by sharing stories, strategies being implemented that are making a difference, and helpful tactics for promoting wellbeing.
Click here for more information.
AZ HEROES Study
This study stands for Arizona Healthcare, Emergency Response and Other Essential workers Surveillance.  AZ HEROES is  funded by the CDC  and focuses on COVID-19  infection and immune response in individuals on the frontline of this pandemic. English and Spanish-speaking individuals with and without prior COVID-19 diagnosis can enroll.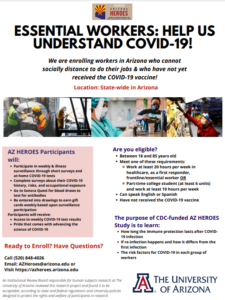 Study activities include:
Weekly surveillance through short surveys and at-home COVID-19 tests, with additional tests if they become ill

Complete surveys about their COVID-19 history, risks and occupational exposure three times

Go  to Sonora Quest for a blood draw three to four times to test for antibodies
Participants will receive:
Access to COVID-19 test results

New information and updates on COVID-19 

Pride that comes with advancing the science of COVID-19

Entry into weekly raffles based on study compliance for the chance to win 1 of 5 $50 cash gift cards each week of the study
Please note that this study is inclusive to individuals: 
Between 18  and  85  years old

Meet one of these requirements:

Work at least 20 hours per week in health care, as a first responder, front-line/essential worker (retail, hospitality, facilities, government, etc.) 

OR

Part-time college student (at least 6 units) and work at least 10 hours per week

Can speak English or Spanish

Have not received the COVID-19 vaccine

 or have been vaccinated within the last 14 days
For more information, click here.
7th Annual Rural Women's Health Symposium: Leadership in a Brave New Normal
Thursday, July 14-Friday, July 15, 2022
Virtual
This year's theme is Leadership in a Brave New Normal. The goal for this symposium is to explore ways we can support providers, health care workers and community members in serving rural women during turbulent times. The Symposium is a chance to learn from each other and share best practices as leaders. We hope to raise awareness and increase knowledge of health-related issues among women and health equity in rural Arizona during a pandemic and post-pandemic.
Click here for more information.
ABMS Conference 2022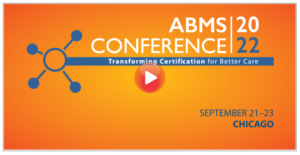 Wednesday, Sept. 21-Friday, Sept. 23, 2022
Join us in Chicago on Sept. 21 to 23 for ABMS Conference 2022! Play the video to learn more!
This conference will be in-person and will take place at the Rosemont Loews Hotel and Conference Center in Chicago. ABMS will follow CDC and local health guidelines for in-person meetings.
Abstracts for sessions and posters must be submitted by March 21, 2022. Questions? Contact callforsessions@abms.org.
Go to abmsconference.com for the latest information and details.
You can review the latest opportunities with the American Board of Medical Specialties by clicking here.