Because of the COVID-19 virus, please confirm live conferences/trainings/workshops are still scheduled. Pima County Medical Society will do its best to keep information updated. 
Wellbeing Collaborative: Supporting Health Care Workers
Fourth Tuesday of the month
4 p.m.
A Wellbeing Collaborative for Health Professionals has formed in Arizona. Participation requires no dues or formal commitments as the Collaborative focuses on sharing lessons learned, best practices, and other practical resources.
The Wellbeing Collaborative serves as a resource for you to utilize, whether you are an organization or a health care professional. Our goal is to promote the importance of keeping our health care professionals uplifted by sharing stories, strategies being implemented that are making a difference, and helpful tactics for promoting wellbeing.
Click here for more information.
AZ HEROES Study
This study stands for Arizona Healthcare, Emergency Response and Other Essential workers Surveillance.  AZ HEROES is  funded by the CDC  and focuses on COVID-19  infection and immune response in individuals on the frontline of this pandemic. English and Spanish-speaking individuals with and without prior COVID-19 diagnosis can enroll.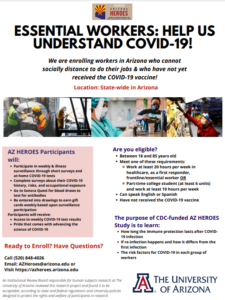 Study activities include:
Weekly surveillance through short surveys and at-home COVID-19 tests, with additional tests if they become ill

Complete surveys about their COVID-19 history, risks and occupational exposure three times

Go  to Sonora Quest for a blood draw three to four times to test for antibodies
Participants will receive:
Access to COVID-19 test results

New information and updates on COVID-19 

Pride that comes with advancing the science of COVID-19

Entry into weekly raffles based on study compliance for the chance to win 1 of 5 $50 cash gift cards each week of the study
Please note that this study is inclusive to individuals: 
Between 18  and  85  years old

Meet one of these requirements:

Work at least 20 hours per week in health care, as a first responder, front-line/essential worker (retail, hospitality, facilities, government, etc.) 

OR

Part-time college student (at least 6 units) and work at least 10 hours per week

Can speak English or Spanish

Have not received the COVID-19 vaccine

 or have been vaccinated within the last 14 days
Health Current Summit & Trade Show, ACHIEVE 2021
Tuesday, Oct. 12-Wednesday, Oct. 13, 2021

Register Today for the Health Current Summit & Trade Show, Oct. 12 – 13
Registration is now open for ACHIEVE 2021, the 14th Annual Health Current Summit & Trade Show – Hybrid Event, scheduled for Oct. 12 – 13.
Health Current will be hosting a hybrid event for this year's Summit & Trade Show, so you can join your Arizona health care community peers either in-person or virtually. (Note: Proof of vaccination required for in-person attendance.)
The event includes a variety of engaging and informational presentations on a range of topics, including:
Keynote speaker Micky Tripathi, PhD, National Coordinator for Health Information Technology, U.S. Department of Health & Human Services;
An update on new HIE technologies and services – including the HIE 3.0 platform;
 The Arizona Healthcare Directives Registry (AzHDR);
The Social Determinants of Health (SDOH) Closed Loop Referral System;
Health IT Policy & Regulatory Update; and
Panel discussions on multiple topics (i.e. quality reporting, patient matching, value-based population health, etc.)
To learn more and register, visit healthcurrent.org/summit.
National Academy of Medicine Annual Meeting 2021
Sunday, Oct. 17-Monday, Oct. 18, 2021
The National Academy of Medicine will hold its annual meeting on Sunday and Monday, Oct. 17-18, 2021. Because of the ongoing COVID-19 pandemic and in an abundance of caution, the Annual Meeting will be held entirely virtually.
In order to help support this event, the symposium will cost $50 to attend live on Oct. 17 and 18. Registration will include the Interest Group meetings on October 17, the presentation of all 2021 NAM awards on Oct. 17, and the scientific symposium on Oct. 18.
Recordings of the public events will be released for free in the weeks after the event has concluded.
Click here to register.
CPT® and RBRVS 2022 Annual Symposium
Wednesday, Nov. 17-Friday, Nov. 19, 2021
Prepare for 2022 with the authority on the CPT® code set!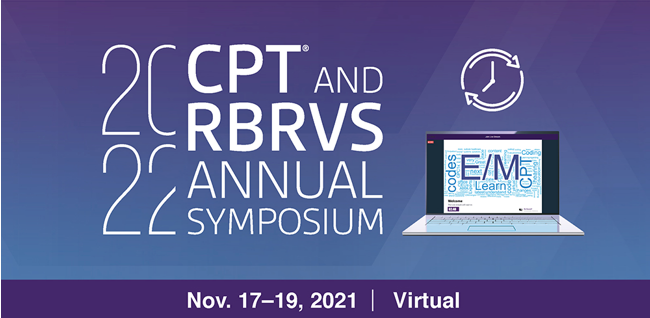 You could save up to $375* if you register today for CPT® and RBRVS 2022
Medicare Physician Payment Schedule Changes 2022 and Beyond
Gift Tee, Director, Centers for Medicare & Medicaid Services (CMS)
Evaluation and Management (E/M) 2022
Peter A. Hollmann, MD, AMA/Specialty Society Relative Value Scale Update Committee (RUC) Member
Coding for Social Determinants of Health
Margie Andreae, MD, American Academy of Pediatrics, AMA/Specialty Society Relative Value Scale Update Committee (RUC) Member
Nelly Leon-Chisen, RHIA, Executive Director, Coding and Classification, AHA Center for Health Innovation
* Save up to $375 with early bird pricing – depending on your attendance type selected.
Click here for more information.