Pima County Medical Society does its best to keep information updated. 
Get Waivered's Remote Course: X-press DEA-X Waiver Training
Friday, Nov. 18, 2022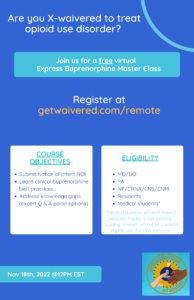 10 a.m. Arizona time (noon Eastern)
Via webinar
After years of advocacy, the medical community is coming together to celebrate amended federal regulations eliminating the mandatory 8-hour training requirement to get DEA-X waivered. Providers must still have a waiver to prescribe buprenorphine, but now the process to get waivered, and the basic information on how to use that waiver, can be executed in a fraction of the time. By getting waivered, health care providers (MD/DO; PA; NP/CNS/CRNA/CNM) will have prescriptive authority to provide evidence-based buprenorphine, the most-advanced intervention for the treatment of opioid use disorder (OUD). This urgent call to action comes at a critical time when parallel pandemics have resulted in the highest opioid-related fatalities ever recorded in a 12-month period.
To build provider confidence in proper buprenorphine administration, Get Waivered is pleased to host a free virtual webinar on Friday, Nov. 18 at 10 a.m. Arizona time (noon Eastern) to:
Help providers get waivered via the new waiver process by submitting a Notice of Intent (NOI)
Train eligible practitioners on the fundamentals of buprenorphine therapy by condensing the traditional 8-hour course into eight-minute overview
The remainder of the time will be used to answer any questions in real-time (optional)
Medical Night at the Museum
Wednesday, Dec. 7, 2022
6-8 p.m.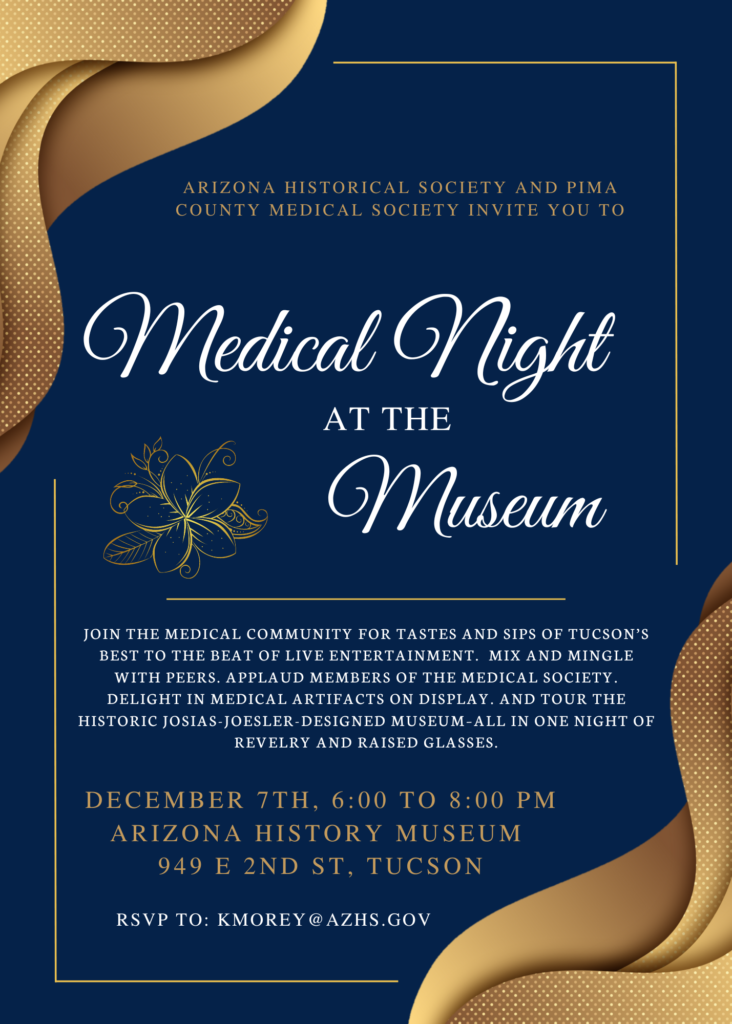 You're invited!
The Arizona Historical Society, Arizona's oldest and largest historical organization, is thrilled to partner with the Pima County Medical Society to bring you a night at the museum on us.
What: Medical Night at the Museum
When: Wednesday, Dec. 7, 6-8 p.m. (add to calendar)
Where: Arizona History Museum, 949 E. 2nd St., Tucson
Who: Doctors, nurses, hospital execs and top Tucson medical professionals … and guests
Why: A toast to Pima County's medical community in a way that will make the history books!
Cost: Complimentary admission, thanks to our fabulous sponsors
Questions: Kyle Morey at (520) 617-1162
Join the medical community for tastes and sips of Tucson's best to the beat of live entertainment. Participate in a brief but meaningful awards presentation. Mix and mingle with peers. Delight in medical artifacts on display. And tour the historic Josias-Joesler-designed museum. All in one night of revelry and raised glasses.
Wellbeing Collaborative: Supporting Health Care Workers
Fourth Tuesday of the month
4 p.m.
A Wellbeing Collaborative for Health Professionals has formed in Arizona. Participation requires no dues or formal commitments as the Collaborative focuses on sharing lessons learned, best practices, and other practical resources.
The Wellbeing Collaborative serves as a resource for you to utilize, whether you are an organization or a health care professional. Our goal is to promote the importance of keeping our health care professionals uplifted by sharing stories, strategies being implemented that are making a difference, and helpful tactics for promoting wellbeing.
Click here for more information.
AZ HEROES Study
This study stands for Arizona Healthcare, Emergency Response and Other Essential workers Surveillance.  AZ HEROES is  funded by the CDC  and focuses on COVID-19  infection and immune response in individuals on the frontline of this pandemic. English and Spanish-speaking individuals with and without prior COVID-19 diagnosis can enroll.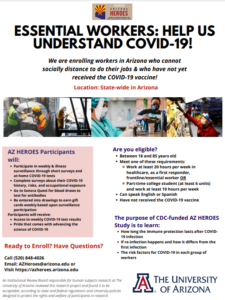 Study activities include:
Weekly surveillance through short surveys and at-home COVID-19 tests, with additional tests if they become ill

Complete surveys about their COVID-19 history, risks and occupational exposure three times

Go  to Sonora Quest for a blood draw three to four times to test for antibodies
Participants will receive:
Access to COVID-19 test results

New information and updates on COVID-19 

Pride that comes with advancing the science of COVID-19

Entry into weekly raffles based on study compliance for the chance to win 1 of 5 $50 cash gift cards each week of the study
Please note that this study is inclusive to individuals: 
Between 18  and  85  years old

Meet one of these requirements:

Work at least 20 hours per week in health care, as a first responder, front-line/essential worker (retail, hospitality, facilities, government, etc.) 

OR

Part-time college student (at least 6 units) and work at least 10 hours per week

Can speak English or Spanish

Have not received the COVID-19 vaccine

 or have been vaccinated within the last 14 days