Because of the COVID-19 virus, please confirm live conferences/trainings/workshops are still scheduled. Pima County Medical Society will do its best to keep information updated. 
AZ HEROES Study
This study stands for Arizona Healthcare, Emergency Response and Other Essential workers Surveillance.  AZ HEROES is  funded by the CDC  and focuses on COVID-19  infection and immune response in individuals on the frontline of this pandemic. English and Spanish-speaking individuals with and without prior COVID-19 diagnosis can enroll.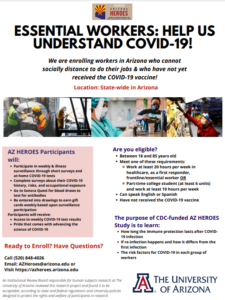 Study activities include:
Weekly surveillance through short surveys and at-home COVID-19 tests, with additional tests if they become ill

Complete surveys about their COVID-19 history, risks and occupational exposure three times

Go  to Sonora Quest for a blood draw three to four times to test for antibodies
Participants will receive:
Access to COVID-19 test results

New information and updates on COVID-19 

Pride that comes with advancing the science of COVID-19

Entry into weekly raffles based on study compliance for the chance to win 1 of 5 $50 cash gift cards each week of the study
Please note that this study is inclusive to individuals: 
Between 18  and  85  years old

Meet one of these requirements:

Work at least 20 hours per week in health care, as a first responder, front-line/essential worker (retail, hospitality, facilities, government, etc.) 

OR

Part-time college student (at least 6 units) and work at least 10 hours per week

Can speak English or Spanish

Have not received the COVID-19 vaccine

 or have been vaccinated within the last 14 days
North Star Resource Group: Financial Strategies for Physicians of Pima County Medical Society
Tuesday, June 29, 2021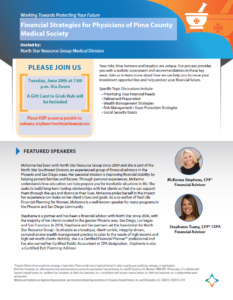 7 p.m.
Via Zoom
Join McKenna Stephens, CFP and Stephanie Tsang, CFP, CEPA both financial advisors at North Star Resource Group, will host Financial Strategies for Physicians of Pima County Medical Society on Tuesday, June 29 at 7 p.m. via Zoom.
Specific topic discussions include:
Prioritizing your financial health
Retirement preparation
Wealth management strategies
Risk management / asset protection strategies
Social Security basics
Please RSVP as soon as possible to McKenna Stephens at McKenna.Stephens@northstarfinancial.com. A gift card to Grubhub will be included.
Arizona Hospital and Healthcare Associations (AzHHA) Thoughtful Life Conversations

Introduction to POLST:
Friday, June 25, 2021
10-11 a.m.
This one-hour workshop equips healthcare professionals with knowledge and resources to begin using POLST in Arizona. The objectives are to describe what POLST is at the state and national level, explain why POLST is important, define the population for POLST, when to begin the conversation and who completes POLST, describe the process for completing, reviewing and updating POLST,  and learn the process of submitting healthcare planning documents to the Arizona Healthcare Directive Registry.
The target audience is healthcare professionals who plan on using POLST or caring for patients/residents who have a POLST in all care settings.
Women's Health Symposium
Thursday, Aug. 5-Friday, Aug. 6, 2021
The 5th Annual Rural Women's Health Symposium has been postponed to August 5-6, 2021. The safety and health of our participants, speakers and exhibitors is vital, therefore we are continuously monitoring the evolution of COVID-19. We will inform everyone with any changes and will adjust to the new norms of health and safety. We are also in the initial planning stages to host a virtual event this August of 2020 and will send out details for those who are interested in attending.  Thank you for understanding as we make changes and decisions.