Because of the COVID-19 virus, please confirm live conferences/trainings/workshops are still scheduled. Pima County Medical Society will do its best to keep information updated. 
AZ HEROES Study
This study stands for Arizona Healthcare, Emergency Response and Other Essential workers Surveillance.  AZ HEROES is  funded by the CDC  and focuses on COVID-19  infection and immune response in individuals on the frontline of this pandemic. English and Spanish-speaking individuals with and without prior COVID-19 diagnosis can enroll.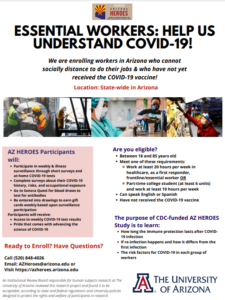 Study activities include:
Weekly surveillance through short surveys and at-home COVID-19 tests, with additional tests if they become ill

Complete surveys about their COVID-19 history, risks and occupational exposure three times

Go  to Sonora Quest for a blood draw three to four times to test for antibodies
Participants will receive:
Access to COVID-19 test results

New information and updates on COVID-19 

Pride that comes with advancing the science of COVID-19

Entry into weekly raffles based on study compliance for the chance to win 1 of 5 $50 cash gift cards each week of the study
Please note that this study is inclusive to individuals: 
Between 18  and  85  years old

Meet one of these requirements:

Work at least 20 hours per week in health care, as a first responder, front-line/essential worker (retail, hospitality, facilities, government, etc.) 

OR

Part-time college student (at least 6 units) and work at least 10 hours per week

Can speak English or Spanish

Have not received the COVID-19 vaccine

 or have been vaccinated within the last 14 days
Women's Health Symposium
Thursday, Aug. 5-Friday, Aug. 6, 2021 (Virtual)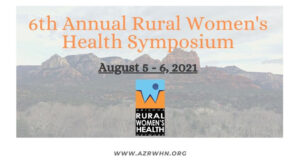 This symposium is an opportunity for different organizations to share their best practices in serving women in rural Arizona and recognizing champions in rural women's health with an award celebration.
Please join us for this year's event, "Advancing Health Equity for Women," to learn and discuss rural women's health needs by completing the registration form below.
Visit https://azrwhn.org/ for more information on the Arizona Rural Women's Health Network.
Click here to sign up and for more information.
ABMS Conference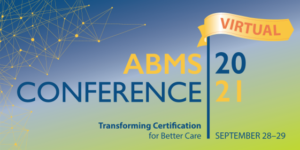 We're building on the success of ABMS Conference 2020 to bring you an even better virtual experience in 2021!
ABMS Conference 2021 has more of everything you want:
More topical networking opportunities
More live, interactive sessions to choose from
More large-group plenaries and presentations
More than 30 posters featuring video chats with each presenter
The virtual conference will take place September 28 and 29. Registration opens in early August!
ABMS Conference 2021 is the premier conference on board certification with a focus on physician assessment, quality improvement, professionalism, and professional development. At this annual event, you will expand your knowledge, share best practices, connect with your peers, and engage in professional development opportunities — all in a virtual environment adapted to provide you with a great online experience!
Go to abmsconference.com for the latest information and details.