Pima County Medical Society does its best to keep information updated. 
Free Cardiovascular Screening
Heart Valve Disease Awareness Day, recognized every February during American Heart Month, is a day dedicated to raising awareness about heart valve disease – a disorder that as many as 11 million Americans have and one that claims the lives of 25,000 each year.
Screenings include:
Listening to heart sounds

Checking blood pressure and heart rate

Checking oxygen level

Education on heart valve disease and treatment options

Where:
Oro Valley Community Center
10555 N. La Canada Dr.
Oro Valley, AZ 85737
When:
Wednesday, February 22
11:00 am – 2:00 pm
  Register here: Screenings are limited and not guaranteed. 
Patient Safety Structural Measure – TEP Nominations Needed
The Centers for Medicare & Medicaid Services (CMS) has contracted with Yale New Haven Health Services Corporation – Center for Outcomes Research and Evaluation (CORE) to develop a Patient Safety Structural Measure. As part of its measure development process, CORE convenes groups of stakeholders and experts who contribute direction and thoughtful input to the measure developer during measure development and maintenance.
CORE is seeking nominations for a Technical Expert Panel (TEP) to provide critical input on the development of a Patient Safety Structural Measure for assessing hospitals. Individuals and organizations should be aware that persons selected to the TEP represent themselves and not their organization.
CORE anticipates holding a webinar-based meeting in February of 2023. Members will also be expected to participate in a second follow-up webinar meeting later in early 2023. Webinar-based meetings will last between one to two hours. Learn more about this work and TEP member responsibilities.
Wellbeing Collaborative: Supporting Health Care Workers
Fourth Tuesday of the month
4 p.m.
A Wellbeing Collaborative for Health Professionals has formed in Arizona. Participation requires no dues or formal commitments as the Collaborative focuses on sharing lessons learned, best practices, and other practical resources.
The Wellbeing Collaborative serves as a resource for you to utilize, whether you are an organization or a health care professional. Our goal is to promote the importance of keeping our health care professionals uplifted by sharing stories, strategies being implemented that are making a difference, and helpful tactics for promoting wellbeing.
Click here for more information.
AZ HEROES Study
This study stands for Arizona Healthcare, Emergency Response and Other Essential workers Surveillance.  AZ HEROES is  funded by the CDC  and focuses on COVID-19  infection and immune response in individuals on the frontline of this pandemic. English and Spanish-speaking individuals with and without prior COVID-19 diagnosis can enroll.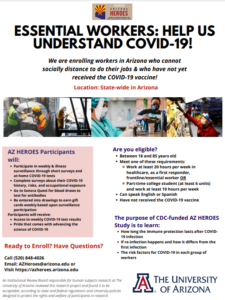 Study activities include:
Weekly surveillance through short surveys and at-home COVID-19 tests, with additional tests if they become ill

Complete surveys about their COVID-19 history, risks and occupational exposure three times

Go  to Sonora Quest for a blood draw three to four times to test for antibodies
Participants will receive:
Access to COVID-19 test results

New information and updates on COVID-19 

Pride that comes with advancing the science of COVID-19

Entry into weekly raffles based on study compliance for the chance to win 1 of 5 $50 cash gift cards each week of the study
Please note that this study is inclusive to individuals: 
Between 18  and  85  years old

Meet one of these requirements:

Work at least 20 hours per week in health care, as a first responder, front-line/essential worker (retail, hospitality, facilities, government, etc.) 

OR

Part-time college student (at least 6 units) and work at least 10 hours per week

Can speak English or Spanish

Have not received the COVID-19 vaccine

 or have been vaccinated within the last 14 days