Pima County Medical Society does its best to keep information updated. 
2023 Southwest Regional Trauma Conference
June 29-30, 2023
Starr Pass Resort, Tucson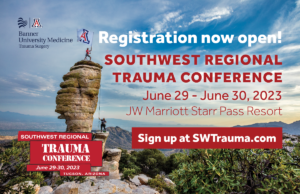 Featuring experts across professions and specializations, the goal of the Southwest Regional Trauma Conference is to provide the most current information on trauma and its management to all healthcare professionals working to combat this major health problem.
Applicable for EMS, law enforcement, border patrol, fire, trauma RNs, respiratory therapists or other prehospital professionals.
41st Annual Doctors for Disaster Preparedness Meeting
July 7-9, 2023
Doubletree at Reid Park, Tucson
Concerned about Candida auris and other superbugs? Hear a talk on ozone applications for sanitization in medicine and industry. Worried about the next pandemic? Dr. Steven Hatfill, author of Three Seconds until Midnight, will discuss a national preparedness plan. Worried about food shortages? Debbie Bacigalupa, a California cattle rancher, will speak about environmental policy in rural America, and Paul Driessen will speak about policies affecting agriculture, habitat, and nutrition. Energy policy will be featured, including a talk on nuclear energy prospects by Robert Zubrin, author of The Case for Mars, Merchants of Despair, The Case for Nukes, and many other books. Have you heard about photobiomodulation? Learn how it is helping veterans. Join us for a chance to hear and visit with internationally known experts!
Complete program and registration information
Providing Healthcare in Challenging Times –
ABMS Conference 2023
September 19-20, 2023
Loews O'Hare Hotel, Rosemont, Illinois


Many of today's physicians and specialists are finding it difficult to provide high quality care due to various ethical challenges in the current political and organizational environment.
From the pressures of private equity to the legislative and legal interference in the practice of medicine, physicians and specialists are forced to navigate new constraints amidst legal, ethical and personal moral decisions.
Complete program and registration information
Emergency Preparedness Webinar Series
Third Wednesday of the month
3 p.m.
In partnership with Health Services Advisory Group (HSAG), the Arizona Coalition for Healthcare Emergency Response (AzCHER), and others—we invite you to join the monthly emergency preparedness webinars in 2023 to discuss up-to-date information and resources for the areas of focus included in a comprehensive Emergency Preparedness Plan. This monthly series is the third Wednesday of the month from 3–3:45 p.m. PT.
Webinar Topics:
February (Past Event, Recording Available): Hazard Vulnerability Assessment (Recording and PowerPoint available)
March (Past Event, Recording Available): Incident Command System (Recording and PowerPoint available)
April (Past Event; Recording Available): QSO-21-15-ALL and the EID Self-Assessment Tool (Recording and PowerPoint available)
May 17: Transportation – Know Thy Neighbors
June 21: Business Continuity Planning and Supply Chain Management
July 19: Care Coordination and Surge
August 16: Engaging our Staff | Being Prepared at Home
September 20: Table-Top Exercises: Planning and the After-Action Report
October 18: Top Ten ETag Deficiencies
To register and access the recordings of previous sessions visit: https://www.hsag.com/epp-series.
Wellbeing Collaborative: Supporting Health Care Workers
Fourth Tuesday of the month
4 p.m.
A Wellbeing Collaborative for Health Professionals has formed in Arizona. Participation requires no dues or formal commitments as the Collaborative focuses on sharing lessons learned, best practices, and other practical resources.
The Wellbeing Collaborative serves as a resource for you to utilize, whether you are an organization or a health care professional. Our goal is to promote the importance of keeping our health care professionals uplifted by sharing stories, strategies being implemented that are making a difference, and helpful tactics for promoting wellbeing.
Click here for more information.
AZ HEROES Study
This study stands for Arizona Healthcare, Emergency Response and Other Essential workers Surveillance. AZ HEROES is  funded by the CDC  and focuses on COVID-19infection and immune response in individuals on the frontline of this pandemic. English and Spanish-speaking individuals with and without prior COVID-19 diagnosis can enroll.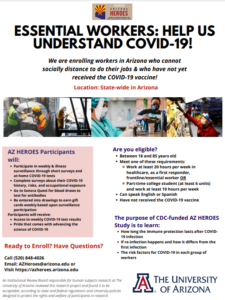 Study activities include:
Weekly surveillance through short surveys and at-home COVID-19 tests, with additional tests if they become ill

Complete surveys about their COVID-19 history, risks and occupational exposure three times

Go  to Sonora Quest for a blood draw three to four times to test for antibodies
Participants will receive:
Access to COVID-19 test results

New information and updates on COVID-19 

Pride that comes with advancing the science of COVID-19

Entry into weekly raffles based on study compliance for the chance to win 1 of 5 $50 cash gift cards each week of the study
Please note that this study is inclusive to individuals: 
Between 18  and  85  years old

Meet one of these requirements:

Work at least 20 hours per week in health care, as a first responder, front-line/essential worker (retail, hospitality, facilities, government, etc.) 

OR

Part-time college student (at least 6 units) and work at least 10 hours per week

Can speak English or Spanish

Have not received the COVID-19 vaccine

 or have been vaccinated within the last 14 days