2023 Walk With A Doc Events
All events are held at 8 a.m. at the Rillito River Park ramada east of Swan Road on the south bank just north of Camp Lowell. From Swan go east on Paseo De Los Rios (you'll see the blue Rillito River Park wall). Once on Paseo De Los Rios take the immediate left. That road will take you in to the parking lot. Walkers can cover a level 1.2- or 2.4-mile course. See map below.
PCMS is looking for event leaders for upcoming Walk with a Doc events. This is an excellent opportunity for our members to reach out to our community in a very informal setting, and encourage your patients, friends and staff to be active.
Physicians are asked to make a short presentation on his area of expertise or interest. Walkers hike along an easy 2.4 mile path and continue the conversation and ask questions. It is open to all ages and there is no charge. We will fill the spots on a first-come, first-scheduled basis. You don't have to lead an event to join us.
If you are interested in leading a walk, reach out today via e-mail or call (520) 795-7985.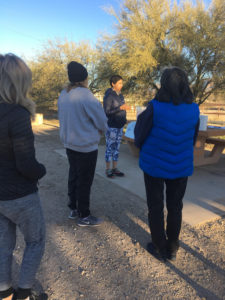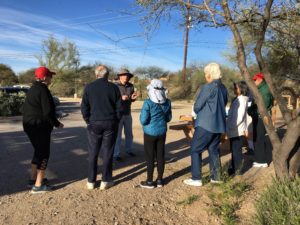 Jan. 14: Marty Twichell, Fitness Coordinator, Pima Council on Aging
Feb. 11: PCMS board member, Adam Thompson, and the AMA chapter of medical students at the University of Arizona College of Medicine
March 11: Dr. Shaun Peterson, Orthopedic Surgeon, Tucson Orthopedic Institute
April 8: Sharon Morgan, DNP, FNP-BC, Carondelet Medical Group, Cardiology
May – August: on hiatus for summer
September 9: Clayton Pierce, MD, Carondelet Medical Group, Family Medicine/Primary Care
October 14: Matthew Jones, DPM, Carondelet Medical Group, Podiatry
November 11: Jason Smotherman, MD, Carondelet Medical Group, Urology
December 9: Lauren Beliveau, MD, Vascular Surgeon, Arizona EndoVascular Center
2024 Walk With A Doc Events
January: TBD
February 10: Melissa Anderson, MSN RN, Trauma Outreach and Injury Prevention Coordinator, Carondelet St. Joseph's Hospital Trauma Center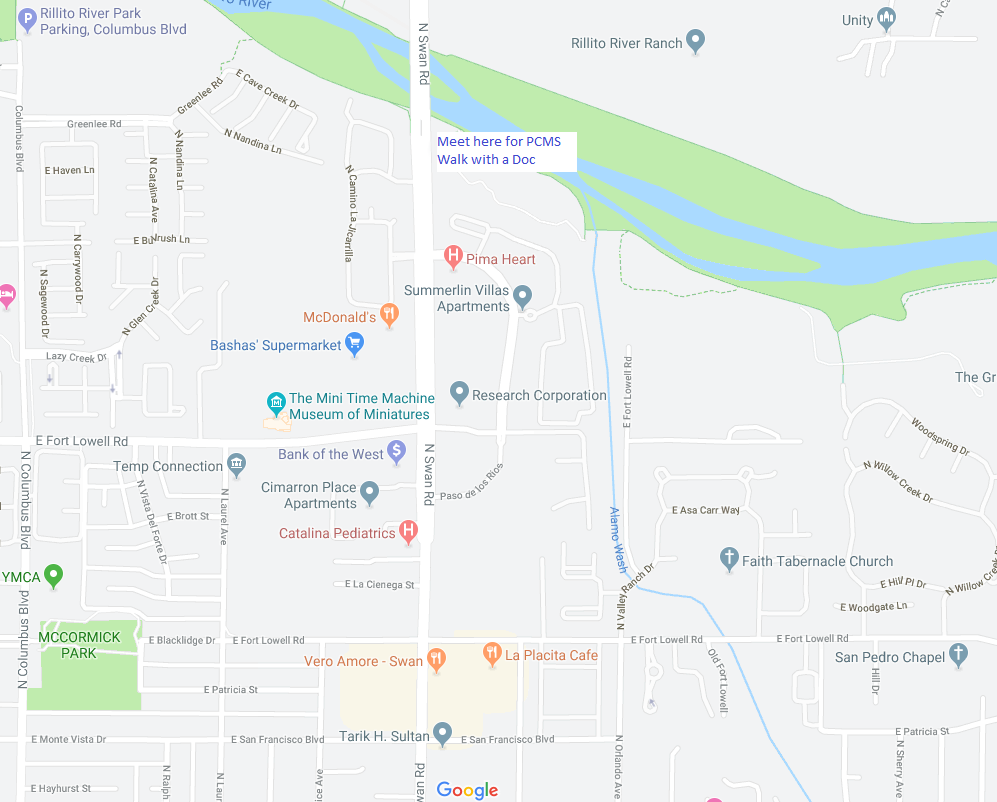 Stick to that resolution to get more active – just walk!
That's the message Pima County Medical Society (PCMS) is giving as a way to encourage Tucsonans to get out and move. And the physician organization plans to help you get started.
PCMS has joined a national movement to get patients to walk a mile with a doc on scheduled Saturdays throughout the year. Each walk is led by a physician who gives a brief overview of the benefits of exercise and answers general health questions during the outing.
"All of our missions involve improving public health," said Bill Fearneyhough, former-PCMS Executive Director. "We want Tucsonans to become more active and one way to do that is to show them they indeed can walk a mile," he said.
Health benefits:
Reduces the risk of coronary heart disease
Improves blood pressure and blood sugar levels
Reduces the risk of osteoporosis
Aids in maintaining body weight and lowers the risk of obesity
Enhances mental well-being
Reduces the risk of breast and colon cancer
Improves blood lipid profile
Reduces the risk of Type 2 diabetes
The walks are open to anyone and the course is generally flat. Wear comfortable shoes. You may bring a cane or walking stick, and a bottle of water. Be sure to dress for the temperatures. Please arrive at least 15 minutes prior to the walk start. Use the parking lot on the east side of Swan, just south of the wash. The group meets at the ramada by the water fountain. For questions or to schedule, e-mail Dennis Carey or call him at (520) 795-7985.
Walk with a Doc is a program founded in 2005 by David Sabgir MD, a board-certified cardiologist in Columbus, Ohio. It has spread all around the globe with more than 400 chapters worldwide. Just Walk is a non-profit organization dedicated to encouraging healthy physical activities for people of all ages and fitness levels.