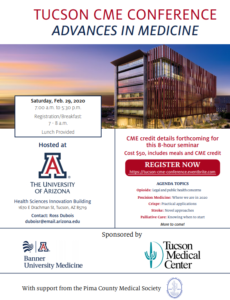 The Tucson Conference will be held on Saturday, February 29, 2020 from 7 a.m. to 5:30 p.m. (The date has been updated.)
Hosted at The University of Arizona College of Medicine – Tucson at 1670 E. Drachman St. Tucson, AZ 85719. The event is sponsored by Banner University Medicine and Tucson Medical Center with support from Pima County Medical Society.
The 8-hour session, which costs $50 to attend, will cover various clinical specialties and innovative options for treatment. CME certificates and meals provided.
Agenda topics
Opioids: Legal and public health concerns
Precision Medicine: Where we are in 2020
Crispr: Practical applications
Stroke: Novel approaches
Palliative Care: Knowing when to start
Speakers and titles will be announced soon.