Soon-to-be-Doctors Learn their Future at Match Day Ceremony
On Friday, March 15, more than 100 medical students at the University of Arizona College of Medicine – Tucson simultaneously will open an envelope revealing where they will go for their residency training. Surrounded by friends and family, the emotion-filled ceremony is a rite of passage for soon-to-be doctors.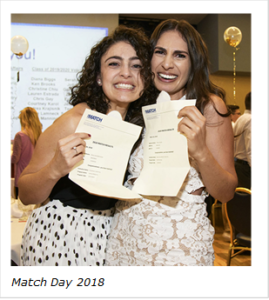 More than 100 medical students at the University of Arizona College of Medicine – Tucson will learn where they will complete the next phase of their medical training at this year's Match Day ceremony.
The event will take place on Friday, March 15, 8:30 a.m., at the Westin La Paloma Resort and Spa, 3800 E. Sunrise Drive Tucson, AZ 85718.
Surrounded by classmates, family and friends, students in their final semester of medical school simultaneously will tear open envelopes at 10 a.m.; the contents will reveal where they will begin their careers as physicians. This nationwide celebration, known as Match Day, represents a culmination of four years of intensive work during medical school.
Unlike selecting which medical school they will attend, medical students cannot directly choose where they will go for their residency training — a computer algorithm decides for them. During their last year of medical school, students select institutions where they aspire to train and apply to interview for a residency slot there. Students later rank their residency location preferences, while institutions rank the students they would like to have as trainees. The match process then is completed by the National Residency Matching Program (NRMP).
"Match Day is probably the most emotional and impactful day of medical school," said Kevin Moynahan, MD, deputy dean for education at the UA College of Medicine – Tucson. "Each student's journey to this point has been an individual story, and I'm proud to have shared some of that journey with them."
Fourth-year medical students across the nation learn their match results at coordinated ceremonies that occur each year on the same date (the third Friday in March) and at the same time (1 p.m. Eastern time).
Medical students are obligated to go to the institution to which they have been matched. Residency training typically lasts from three to seven years, depending on the specialty the physician is pursuing.
Below are just a few of the outstanding medical students in the UA College of Medicine – Tucson's Class of 2019: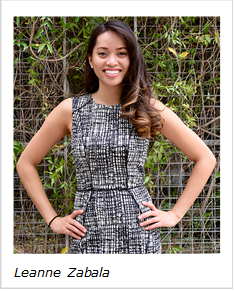 California native Leanne Zabala is a first-generation college student who holds a bachelor's degree in biology from LA's Occidental College. During her time as a medical student, Leanne participated in the Community Service Distinction Track, clocking in more than 180 hours of community service. Leanne split her time between studying and providing medical care to underserved populations, including the Tucson homeless, geriatric patients and residents of Agua Prieta, Sonora, Mexico — a small, medically disadvantaged border town.
Leanne is a student representative of the Class of 2019 and was elected to the Gold Humanism Honor Society for displaying outstanding compassion and kindness in patient care. She also is a participant of the Medical Student Research Program, where she received a stipend from the National Institutes of Health to pursue a research project. With the stipend, Leanne helped develop a method to screen human medications for ototoxicity, which leads to hearing loss and damage to the inner ear's hair cells. Leanne will pursue a residency in internal medicine after graduation.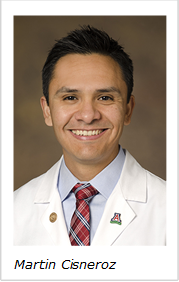 During his time as a medical student, Arizona native Martin Cisneroz received a $5,000 grant to create Spanish-language CPR training videos. The open-source videos were part of an effort to educate Spanish speakers how to perform life-saving chest-compression-only CPR when individuals experience cardiac arrest. Martin also participated in the college's Rural Health Distinction Program, providing clinical care in remote, underserved communities such as Nogales, Arivaca, the Fort Apache Indian Reservation and Bullhead City.
Martin is a proud UA Wildcat who "bleeds red and blue," holding both an undergraduate and master's degree from the UA. He is an inductee of the Gold Humanism Honor Society for displaying outstanding compassion and humanism in patient care. Martin is inspired to provide health to all patients, especially those who are underserved, and will pursue his residency training in emergency medicine.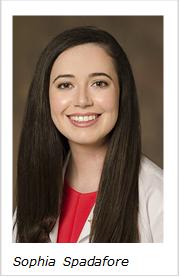 Former New Yorker and piano bar singer Sophia Spadafore served as president of MedPride Alliance during her time as a medical student. The medical student organization promotes awareness of LGBTQ issues in health care and provides medical students with the resources to care for LGBTQ patients.
In May, Sophia will earn her MD with two distinctions: Leadership and Innovation in Health Care and Community Service. The former ensures that graduating physicians understand the many facets of the health-care industry and are prepared to lead and advocate for their patients. The latter is an honor graduates earn for their commitment to community service and providing care to the underserved. Sophia has volunteered at many organizations in Tucson, including the Pinal County Prison, the Southern Arizona AIDS Foundation and the Shubitz Family Clinic — a weekly UA clinic that provides primary care to uninsured patients.
In her free time, Sophia sang alto and served as musical director in the medical student a cappella group, Docapella. Sophia accomplished all this while maintaining excellent grades; she was inducted into the national Alpha Omega Alpha Medical Honor Society earlier this year in recognition of her scholastic achievement. Sophia will pursue residency training in emergency medicine.
PLEASE NOTE: The UA College of Medicine – Tucson's Match Day Ceremony will be live streamed on Facebook.com/UACOMTucson. Video goes live at 8:30 a.m. (Pacific Time Zone).