Shroff Returns to Tucson to Join UA Cancer Center Staff
Rachna Shroff, MD, has joined the University of Arizona Cancer Center, where she serves as the new section chief of gastrointestinal medical oncology, chair of the Data and Safety Monitoring Board (DSMB) and associate professor at the UA College of Medicine – Tucson.
Shroff, who specializes in cancers of the pancreas and biliary tract, comes to Arizona from Texas, where she was an associate professor at MD Anderson Cancer Center. Shroff grew up in Tucson and is a 1996 graduate of St. Gregory College Preparatory School, no known as the Gregory School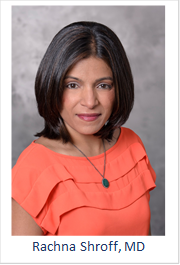 "My parents worked hard to establish a successful life here," said of her mother, a physician, and her father, a peptide chemist. "My younger sister and I had a nice upbringing. St. Gregory gave us a great launching pad for our subsequent educations, and Tucson was a great place for my parents to raise their kids."
Shroff's roots in Tucson also reach the UA Cancer Center, where as a high school student she worked with Margaret Briehl, PhD, professor of pathology at the UA College of Medicine – Tucson. Dr. Briehl remembers Dr. Shroff as enthusiastic and productive. The time Dr. Shroff spent at the UA Cancer Center as a teenager helped shape her path forward in life.
"I think the initial work I did in the Cancer Center is what prompted me to go into oncology," Shroff said. "It's pretty wonderful to come full circle."
Shroff received her medical degree from Thomas Jefferson University in Philadelphia, and did her clinical residency in internal medicine at Barnes-Jewish Hospital in St. Louis. Subsequently, she spent more than a decade at MD Anderson Cancer Center in Houston. With her leadership role at the UA Cancer Center, Shroff is looking forward to strengthening the GI program with her colleagues.
"The three other GI oncologists here are fantastic," said Shroff, referring to Emad Elquza, MD, Aaron Scott, MD, and Hani Babiker, MD. "It's not me leading them, it's the four of us sitting around a table and figuring out how we grow the program together. They are driven to move the needle forward for GI cancer. It's a fantastic group to join."
One of Dr. Shroff's goals is to expand clinical trials, which give patients access to experimental drugs and advance medicine by identifying safer, more effective treatments. Dr. Shroff believes giving patients the option to participate in clinical trials is what sets excellent cancer centers apart from others.
In addition to increasing collaboration within UA's Tucson campus, Dr. Shroff hopes to build more connections with Phoenix, including developing a statewide GI cancer consortium to organize grants and clinical trials across all of Arizona.
"There are so many cancer programs in Greater Phoenix that could be tapped into," said Shroff, citing the UA Cancer Center at Dignity Health St. Joseph's Hospital and Medical Center, the Translational Genomics Research Institute, Banner MD Anderson and the Mayo Clinic campus. "We could bring a number of brilliant minds together."
Collaborating with colleagues and building the GI program are two important aspects of Dr. Shroff's work, but her patients also keep her focused. After witnessing so many advances in cancer care this early in her career, Shroff is optimistic about the strides that will be made in the coming decades.
"It is a completely different ballgame than it was five years ago," she said. "The rapidity with which it's changing for the better gives you momentum and inspires you to keep pushing. You can see progress on the horizon — it's not a distant thought."