PCMS Member Corner: Looking Back on the First Year of Medical School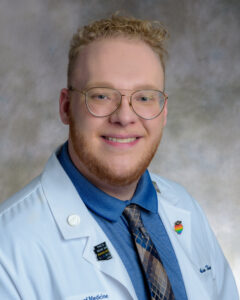 I cannot believe that my first year of medical school is finally coming to an end. The best part of this last year will definitely be going to Washington D.C. on behalf of U of A's AMA-MSS chapter and speaking to Rep. Andy Bigg and Sen. Mark Kelly's teams on the physician shortage in Arizona and expanding residency slots in low-income and rural areas.
Being a member of the primary care scholarship dedicated to serving low-SES Arizonans, I am honored to be able to speak at a national level on how we can improve this issue in our state.
I am also looking forward to going to Chicago this summer as well as a National Delegate on behalf of AMA-MSS to vote on resolutions written by medical students across the country. I will be introducing a resolution on the floor of the House of Delegates on access to gender-affirming care, which means a lot to me after starting up the LGBTQ+ clinic at U of A after a long hiatus.
I will be participating in a month-long pediatrics rotation this summer at Fort Defiance in the Navajo Nation to learn more about rural medicine in Arizona.
Medical school – as much as it has been rewarding – also proved to be a big challenge for me at first in terms of workload and balancing the breadth and depth of material we learned. As the year went by, I was able to utilize my learning specialists to solidify good study techniques and improve my grades and understanding of materials. I am so excited for the rest of what my medical school journey has to offer!
Written by Adam Thompson, PCMS Board Member
June 2023