PCMS Member Corner: Changes to AHCCCS and KidsCare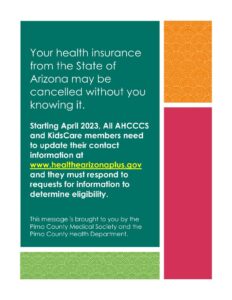 Major changes to AHCCCS and KidsCare occurred on April 1st. During the COVID public health emergency, Arizona did what it could to keep as many people as possible covered with health insurance.
The state did this by (1) allowing everyone to keep their coverage unless they died or requested it be cancelled, (2) waiving KidsCare premiums, and (3) continuing families' coverage even if they failed to respond to their renewal paperwork.
With the end of the public health emergency, those policies are going away and as a result approximately 600,000 Arizonans are at risk of losing their health insurance. Half of those may lose it simply for failing to respond to requests from AHCCCS for eligibility information.
Without health insurance, we can expect more people to end up in our already-stressed emergency rooms and hospitals, and for more kids to have trouble finishing school.
If you have patients or patient families who have AHCCCS or KidsCare, please encourage them to:
1. Update their contact information at www.healthearizonaplus.gov
2. Respond to any communications from AHCCCS/KidsCare
If someone loses coverage, other options exist and can be found at CoverAZ.org or by calling 2-1-1.
Below is a flyer you can put in your office or anywhere you think is appropriate. Right click to download and print.
If anyone wants to make another flyer, please send it to PCMS and we will post it on our social media feeds for people to use.
Written by Dr. Roy Loewenstein, PCMS Board President
April 2023