J. Wright Cortner 1924-2018
John Wright Cortner MD, Pima County Medical Society member since 1954, passed away March 13, 2018. He was 94.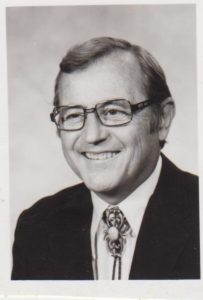 An orthopedic surgeon who practiced until 2001, he graduated from Western Reserve University Medical School in 1947, interned at St. Vincent Charity Hospital in Cleveland with residencies at Tucson Medical Center in 1949 and the University of Wisconsin from 1950-1954.  He also served two years in the U.S. Navy during the Korean War. He also provided care as a member of a volunteer group in Mexico.
As an Active Member of PCMS, he was a delegate from 1960-1963. He often attended other medical functions and was part of the 110-year celebration of PCMS in 2014. He also donated several items to the PCMS library.
Outside of his practice, Cortner loved golf, SCUBA diving and spear fishing and played drums in a jazz band. He was a University of Arizona basketball fan.
He was preceded in death by sister Marian Cortner and daughter Laura Cortner. He is survived by wife Virginia Storch Cortner, daughters Sandra Corner (Greg) Payne and Kathleen Cortner; grandson John Cortner; Virginia's daughter Holly Norris (Wes) and son Charles Storch; Virginia's granddaughter Leah Storch and grandsons Eric Norris (Beth, Brock Norris and great grandson Pearson Norris.
Services were held March 20 at St. Albans Episcopal Church.  The family requests memorials be sent to the Ronald McDonald House of Tucson or charity of your choice.