Curiel Named Arizona Biosciences Researcher of the Year
Clara Curiel, MD, Pima County Medical Society member, professor of medicine and vice chief of the Division of Dermatology at the University of Arizona College of Medicine – Tucson and director of the UA Cancer Center's Cutaneous Oncology Program, has been selected by the Arizona Bioindustry Association (AZBio) as the 2018 Arizona Bioscience Researcher of the Year for her work on both the treatment and prevention of skin cancer.
Since joining the UA Cancer Center in 2005, Dr. Curiel has divided her work between the research front, where she searches for skin cancer biomarkers and new imaging technology, and the clinical setting, where she can be found holding a patient's hand and walking them through a difficult discussion about their medical care.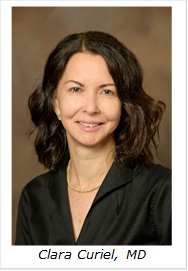 "Dr. Curiel has a deep commitment to bring every Arizonan access to skin cancer prevention, early detection and treatment at every stage of disease," said Monica Kraft, MD, UA professor and chair of the Department of Medicine, which includes dermatology among its 14 divisions. "She is a passionate clinician and investigator, and is also an engaged community spokesperson. She is well known for her talent, work ethic and overwhelming motivation to fight skin cancer."
Dr. Curiel has led and supported many studies focusing on skin cancer chemoprevention, the use of chemical substances to stop cancer development. For example, earlier in her career, at the Dana-Farber/Harvard Cancer Center, she pioneered a landmark study revealing the potential role of NSAIDs (nonsteroidal anti-inflammatory drugs) in reducing melanoma risk and completed the only randomized clinical trial evaluating NSAIDs in patients at risk of developing melanoma. Due to the growing prevalence of skin cancer in the United States, particularly in Arizona, Dr. Curiel's work is of the utmost importance. One area of research is in biomarkers, chemicals that can be measured in skin samples or other tissues. She hopes to learn what biomarkers can tell us about skin cancer risk and treatment.
"Dr. Curiel's investigations into biomarkers for early skin cancer are essential for finding better methods for identifying those at risk for malignancy," said Andrew Kraft, MD, director of the UA Cancer Center. "She is interested in combining relevant biomarker assessment with novel noninvasive monitoring tools, which is empowering dermatologists to harness cutting-edge technology to better serve patients."
As principal investigator, Dr. Curiel worked on imaging standardization to harness the power of satellite remote-sensing technology — previously used to image battlefields — to detect changes in medical images of the body. The initial work on total body digital imaging was supported by an academic-industrial award from Science Foundation Arizona. The prototype was co-developed with Raytheon.
"Her scientific reputation is a thing of legend," said Joaquin Ruiz, PhD, dean of the UA College of Science and vice president of innovation at the UA Office for Research and Discovery. "I first noticed her research when she partnered with Raytheon to map the skin, which I thought was a terrific idea. I was even more impressed when I learned of the details required for the project to be successful."
More recently, she has built connections across the UA campus to spearhead innovative skin imaging methods using photoacoustics for single-lesion assessment. Dr. Curiel is known for building bridges among diverse research disciplines to push science forward.
In addition to her research, Dr. Curiel is an engaged community spokesperson and her community outreach efforts, including lectures, print interviews and TV appearances, make her one of the UA College of Medicine – Tucson's most popular speakers. Her address, "Skin Cancer: What Every Arizonan Should Know," drew the largest audience in this past spring's UA–Banner Health Doc Talks lecture series, with more than 200 people in attendance.
"One of my driving passions is to bring the message of skin cancer prevention to every Arizonan, and to expand their access to early detection and state-of-the-art treatment," Dr. Curiel said. "AZBio's recognition of my work and my life's passion is a true honor."
Dr. Curiel is also the clinical director for the UA Cancer Center's Skin Cancer Institute. In addition, she co-leads the imaging acquisition working group for the International Society for Digital Imaging of the Skin, a leading worldwide organization to standardize digital imaging in dermatology. She has published more than 80 peer-reviewed articles and has five patent applications. She has served as the principal investigator of 17 clinical trials, most being investigator-initiated studies as part of the UA NCI/DCP Cancer Chemoprevention Consortium Agreement, P01 Skin Cancer Prevention studies and sponsored studies.
Dr. Curiel will be recognized at the AZBio Awards on Wednesday, Oct. 3, at the Phoenix Convention Center, 100 N. Third St. Other highlights of the evening will include honoring former UA Cancer Center Director Daniel D. Von Hoff, MD, with the AZBio Pioneer Award for Lifetime Achievement.