2020 ArMA Legislative Report is Now Available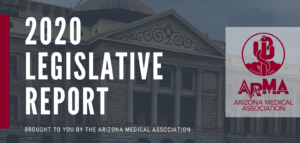 Arizona Medical Association is pleased to present the 2020 Legislative Report. The report not only provides valuable information on ALL the bills tracked by the ArMA advocacy team during the 2020 Legislative Session, it also includes details on the critical issues addressed during the COVID-19 state of emergency so far. Following the early adjournment of the 2020 session, the ArMA advocacy team worked on a number of Executive Orders issued by Gov. Doug Ducey in response to the pandemic, ranging from scope of practice issues to liability protection to telemedicine access. These are detailed in the report for your review.
The 2020 Legislative Report also provides significant insight into some of the advocacy priorities anticipated for the 2021 session. Since the unexpected end of the 2020 session halted progress on key ArMA legislation, many of these bills are expected to be taken up once again in 2021—take a look at the report and read about these bills that ArMA hopes to "fast track" next year.
The 2020 Legislative Report is what ArMA is doing for every physician in Arizona. You need to be a member of ArMA to view the report. Click here to sign up.