Wendell B. Whitacre 1927-2017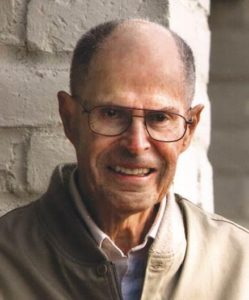 Wendell B. Whitacre, MD, plastic surgeon and 50-year member of the Pima County Medical Society, died of a sudden illness on October 20, 2017. He was 90.
Whitacre was born in Columbus, Ohio in 1927 and graduated from medical school at Ohio State University in 1955. Following an internship at Philadelphia General Hospital, Whitacre entered his general surgery residency at the University of Pennsylvania. He admitted that he became a plastic surgeon by chance when he learned the University of Pennsylvania was looking for a plastic surgeon resident and it sounded good. He liked it and decided to stay with it. As Tucson's second plastic surgeon, he practiced from 1962-2006.
His was dedicated to helping handicapped children, working with Square and Compass and Children's Rehabilitative Services. He continued to cover emergency calls until his retirement. Grateful for his own good health and fortune, he believed it was important to give back to the community as a physician.
PCMS named him Physician of the Year in 2003. He remained  active in the Society as a member Public Health Committee. He was active in Civitan International and served leadership roles as Governor and President of the Arizona-Nevada District.
He is survived by his partner of over 30 years, Theresa Cisler, DO, his brother, Gary Whitacre, MD, four children – Marc Whitacre, MD, Eric Whitacre, MD, Anne Prince, Alice Whitacre, and nine grandchildren – Matthew, Blake, Valerie, Thomas, Elizabeth, Crysta, Grant, Marc, and Victor.  He was preceded in death by his sister, Mary Lois Owen, MD, and his brother, Victor Whitacre, MD.
A memorial service is Saturday, November 4, from 10 am to noon at the Jewish Community Center.  Gifts in his memory go to the Southern Arizona Chapter of the American Red Cross or to the Civitan International Research Center.  His ashes will be placed in the Whitacre family cemetery near Chesterhill, Ohio.