Kwoh Named to Prestigious Rheumatology Committee
C. Kent Kwoh, MD, Pima County Medical Society Member and professor of medicine and medical imaging at the University of Arizona College of Medicine – Tucson, has been named to the prestigious Division Directors Special Committee for the American College of Rheumatology (ACR). His three-year term will commence in October.
The American College of Rheumatology is the world's leading professional organization of rheumatologists and rheumatology health professionals. The ACR Division Directors Special Committee is charged with advancing academic rheumatology and rheumatology as a whole through support of clinical care, research, education and advocacy.
In addition to serving as chief of the UA Division of Rheumatology, Dr. Kwoh is director of the UA Arthritis Center and holder of the Charles A.L. and Suzan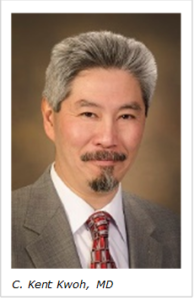 ne M. Stephens Endowed Chair in Rheumatology at the UA. Dr. Kwoh's clinical interests include knee, hip and hand osteoarthritis, rheumatoid arthritis, inflammatory back pain (spondyloarthritis) and lupus.
His research interests include assessing the outcome and examining the risk factors for development and progression of a broad range of rheumatic and musculoskeletal diseases. His current work focuses on identifying biomarkers — most notably MRI imaging biomarkers for the development and/or progression of knee osteoarthritis and the characterization of knee pain patterns in osteoarthritis (OA). He also has a major interest in the reduction and ultimate elimination of disparities in the management of arthritis, rheumatic and musculoskeletal diseases. The issue of OA in particular, Dr. Kwoh notes, is complicated both by an aging U.S. population and by an epidemic of obesity.
"The public health impact of osteoarthritis, especially knee osteoarthritis, has increased and will continue to increase dramatically," he said. "But unfortunately there are no FDA-approved drugs designed to impede or prevent OA-related structural changes to cartilage and bone due largely to a lack of understanding of the relationship between OA and its disease progression."
In September 2017, Dr. Kwoh was awarded a $2.17 million, four-year grant from the National Institute of Arthritis and Musculoskeletal and Skin Diseases (NIAMS), a unit of the National Institutes of Health, for a study titled, "Tracking Treatable Tissues: Change in qMRI Biomarkers and Future Cartilage Loss," as it relates to OA and, in particular, knee OA. Magnetic resonance imaging (MRI) is an improvement over plain knee radiographs, such as X-rays, in showing changes to cartilage, bone and the surrounding soft tissues of the joint structure as OA develops and progresses. An advanced technology, quantitative magnetic resonance imaging, or qMRI, can reveal the earliest signs of cartilage damage. This study aims to evaluate the impact of MRI-detected bone marrow lesions (BMLs) and effusion synovitis (ES) — inflammation and accumulation of fluid in or around the joint — on subsequent cartilage loss and on knee-specific disability.
Co-principal investigators with Dr. Kwoh on the "Tracking Treatable Tissues" study include PCMS member Ali Guermazi, MD, PhD, professor of radiology, director, Quantitative Imaging Center, and section chief, musculoskeletal imaging, Boston University School of Medicine; and Jeffrey Duryea, PhD, research associate, Brigham and Women's Hospital, and associate professor of radiology and collaborator, Advanced Lab for MRI and Acoustics and Surgical Planning Laboratory at Harvard Medical School, Boston.