Dr. Wheelan name Banner UMC – Tucson CEO
Chad Whelan, MD, MHSA, has been named chief executive officer of Banner – University Medicine in Tucson, effective Sept. 26.
Dr. Whelan will have oversight of Banner – University Medical Center Tucson, Banner – University Medical Center South, dozens of clinics, the Banner – University Medical Group physician practice plan in Tucson and more than 6,000 Banner Health employees in Southern Arizona.   He brings to Tucson decades of experience in academic medicine, teaching physician residents and medical students. He was a professor of medicine at Loyola University Chicago Stritch School of Medicine, and has published multiple academic papers and serves on numerous national committees.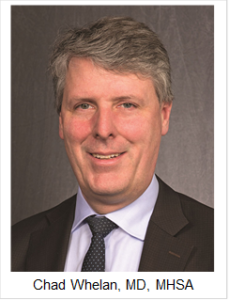 "Banner's dedication to living a patient-first approach really resonates with me," said Dr. Whelan. "I started in the practice of medicine, so I have always shared the patient-first approach to hospital administration. When I was presented with the opportunity to lead Banner's efforts in Tucson – in partnership with the University of Arizona – there was no hesitation, especially considering the University of Arizona partnership. This is an ideal match and I'm excited to get to work."
Dr. Whelan previously was president of Loyola University Medical Center (LUMC) in Maywood, Ill., where he was responsible for the 550-bed hospital and 25 ambulatory clinic sites with 700 employed physicians and 4,500 employees. Before being named president of LUMC, Dr. Whelan served as its senior vice president and chief medical officer. His background also includes leadership and clinical roles at Loyola University Health System and the University of Chicago Medicine.
Dr. Whelan earned his medical degree from the University of Illinois at Chicago and completed a residency at the University of Minnesota, where he was chief resident. He holds a master's degree in Health Management and Policy from the University of Michigan.
Dr. Whelan will work closely with Irving Kron, MD, executive dean of the University of Arizona College of Medicine – Tucson, and report to Larry Goldberg, president of the statewide Banner – University Medicine Division.