Dr. Lussier awarded Ambassador for Health Sciences
Yves A. Lussier, MD, associate vice president for data science and chief knowledge officer at the University of Arizona Health Sciences, and director of the UAHS Center for Biomedical Informatics and Biostatistics, recently was honored by his alma mater, the University of Sherbrooke in Quebec, Canada, with an Ambassador Award.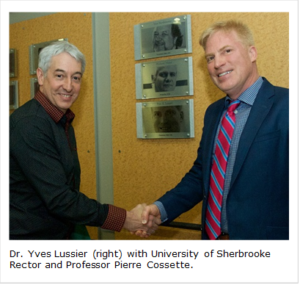 Dr. Lussier was awarded the title of Ambassador for Health Sciences for his team's pioneering work in precision medicine and information technology solutions for the health-care sector. He is a co-founder of Purkinje Incorporated, which led the way in pen computing (a computer user-interface using a pen rather than a keyboard) for comprehensive clinical management of patients by physicians. He is the author of more than 150 scientific publications, and his research has been featured in the New York Times and Wall Street Journal.
Dr. Lussier is one of 10 alumni named Ambassadors of the University. "Through their commitment, actions and accomplishments, our Ambassadors are a source of inspiration for the university community, as well as exceptionally participating in the outreach and development of their alma mater," said University Rector and Professor Pierre Cossette at a gala event at the university on June 1. (A rector is equivalent to a university president in the United States.) Dr. Cossette, former dean of medicine, nominated Dr. Lussier for the award.
"My formative years at The University of Sherbrooke inspired my passion to merge data science with medicine and my enthusiasm for team building. Our work has enabled the advancement of computational precision medicine with the goal of healing humanity, one person at a time," said Dr. Lussier.
Dr. Lussier received bachelor of engineering and medical degrees from the University of Sherbrooke, where he also performed predoctoral research in the Departments of Medicine and Human Physiology. After medical school, he completed an internship in ophthalmology at Laval University Hospital in Quebec City, and a residency in family medicine at the University of Sherbrooke Medical Center. He then was a post-doctoral residential fellow in the Department of Biomedical Informatics in the College of Surgeons & Physicians at Columbia University.
By:  UA Media Center