Dr. Julie Bauman Named Fellow of National Academic Medicine Leadership Program
Julie Bauman, MD, MPH, has been awarded a competitive fellowship with the Hedwig van Ameringen Executive Leadership in Academic Medicine® (ELAM) Program for Women.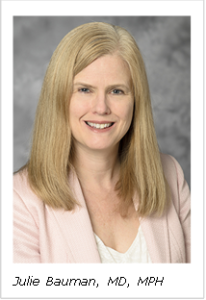 Professor of Medicine Julie Bauman, MD, MPH, has been named a 2019-2020 fellow of the prestigious Hedwig van Ameringen Executive Leadership in Academic Medicine® (ELAM) Program for Women.
 The national program prepares women for senior leadership roles in schools of medicine, dentistry, public health and pharmacy. Based at the Drexel University College of Medicine in Philadelphia, the intensive yearlong fellowship program is part time and offers extensive coaching, networking and mentoring opportunities. The program is specially developed for women faculty members at the associate or full professor level who demonstrate the greatest potential for executive leadership positions at academic health centers.
 Fellows are competitively selected and must exhibit a track record of professional development; strategic risk-taking leadership experiences; sound rationale for seeking a leadership role; and be nominated by the dean of their institution, a director-supervisor and senior colleague.
 Dr. Bauman, who is a member of Pima County Medical Society, serves as chief of the Division of Hematology and Oncology and associate director of translational research at the UA Cancer Center. Before joining the UA College of Medicine – Tucson in 2016, she was an associate professor of medicine at the University of Pittsburgh Cancer Institute (UPCI), where she co-led the UPCI Head and Neck Cancer Program and co-directed the Head and Neck Cancer Center of Excellence at the University of Pittsburgh Medical Center. 
 In his letter of recommendation for Dr. Bauman, Interim Dean Irving L. Kron, MD, wrote: "Dr. Bauman is a natural-born leader with innate traits that will build loyalty and respect among her colleagues. I have only known Dr. Bauman for a short while, but I am confident she will go far in the world of academic medicine."
 Work for the incoming class of fellows began in May with online assignments and community-building activities. The program will continue until April 2020.