Christopher T. Maloney 1938-2017
Cardiac thoracic surgeon and former Pima County Medical Society President, Christopher T. Maloney, MD, died June 12, 2017. He was 78.
Born in New York City on July 12, 1938, Maloney attended Niagara University and New York Medical College before interning at Lennox Hill Hospital in 1964. He completed his surgical residency at Metropolitan Hospital Medical Center in New York in 1970 and received a fellowship from the University of Oregon. He was a decorated Viet Nam veteran serving in the U.S. Army from 1965-67. He also returned to Viet Nam as a civilian volunteer and received an American Medical Association Award of Distinction for his work.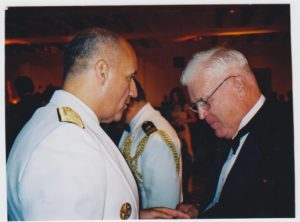 Maloney started Tucson his surgical practice in 1972 and remained in Tucson until 1986 when he was named Chief of Cardiac Surgery and Director of the New Hampshire Heart Institute in Manchester.  He returned to Tucson in 2003 and was active in many community organizations.
As a member of PCMS, Maloney was a delegate to the Arizona Medical Association from 1977-1984. He was a member of the PCMS Executive Board of Directors from 1981-1984, serving as president in 1983.
Maloney also served on the Board of Directors of the Tucson Airport Authority and the St. Mary's Hospital Second Century Foundation. He received the Foundation's Shard Award in 1985.
In 2005, Maloney and his son, plastic surgeon Christopher Maloney, Jr. MD, traveled to Ecuador to perform surgery on patients suffering from nerve damage associated with leprosy. It was a pioneering method to minimize the long-term effects associated with the disease. They chronicled the mission in a cover story for the February 2006 issue of Sombrero.
Maloney was active in the Centurions and long-time member of The Tucson Country Club. His interests outside medicine included riding horses, golf, camping and traveling with his family.
He is survived by his wife of 52 years Wesley Ann, children Anne Frances Donnellan, Christopher (Beth), Elizabeth Longenecker (Dave), Mimi Maloney (Frans Baviera), James Maloney (Brigid), and Carolyn Maloney (Pete Anderson); sisters Carol Connors and Marianne Dowling; brother Raymond Maloney and 20 grandchildren.
Services will be held June 17, 2017 at 10 a.m. at St. Pius X Catholic Church in Tucson. In lieu of flowers, send donations to San Miguel Miguel High School at 6601 San Fernando Ave., Tucson, AZ 85756.