A recollection of UA College of Medicine – Tucson Class of 2025 White Coat Ceremony
Coco Victoria Gomez Tirambulo, MPH
UA College of Medicine – Tucson MD/PhD Student
PCMS student member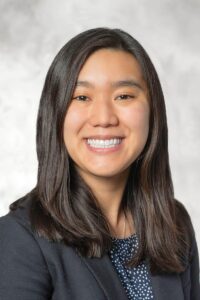 With the A/C blasting and the murmurs of cheering emanating from Centennial Hall, the surrealness of receiving our white coats became evident. As we entered and marched down the aisles, camera flashes interspersed with the applauds of our loved ones sent emotions and adrenaline sky high. I could see some of my peers tearing up, unsure how to process that this was actually happening, especially because of the ever-evolving nature of the COVID-19 pandemic. And although my family could not physically be present at the event because of my dad's immunocompromised kidney transplant status, I knew that they and along with my extended family were there in spirit and safely watching the live stream. My 86-year-old grandma and cousins all the way in the Philippines were even able to see me walk across the stage, be white coated and officially enter medical training.
So, as I walked onto the stage, I was surprised to hear some of my best friends in the back of Centennial Hall loudly cheering undeterred by their face masks. Not only did I hear cheers from them, but also from my University of Arizona Pre-Medical Admissions Pathway (P-MAP) Program and my newfound MedCat family. One by one as all 120 of us walked across the stage to be white coated, we all cheered for each other. Each one of us had the collective dream of being a physician. For me, my path to medicine all started when I was growing up in my parents' Filipino American adult care home in Tucson. Throughout the years, I bore witness to the process, experience and struggles of aging. Observing this inevitable human course illuminated the necessity of physicians in the practice of healing. After this realization, I joined my peers in the pursuit of medicine and public health. Our stories may have had different origins and may have taken on different paths, but ultimately have led us to the University of Arizona College of Medicine – Tucson to become compassionate physicians, scientists and most importantly advocates for our patients and colleagues that make up the holistic care team.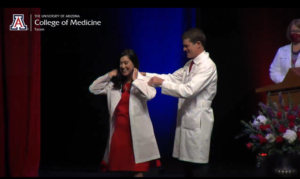 On Friday July 23, 120 new MedCats officially initiated our journey toward learning, listening, healing and improving our future patients' quality of life. The power of the White Coat Ceremony instilled in us the gravity, responsibility, privilege and humility of becoming a part of the medical community and serving those who may be at their most vulnerable state in life. And by collectively reciting our class' student derived oath to ourselves, family and friends, colleagues, patients and community, we will forever be guided by our founding principles as we complete our medical education and serve the diverse communities of Arizona and beyond. I cannot wait to see all the great things that we will accomplish in the next four to eight years (eight years for those in the Medical Scientist Training Program for their MD/PhD)!
I want to thank all the families, friends, mentors, professors, faculty (shoutout to the University of Arizona Mel & Enid Zuckerman College of Public Health) and pets who have displayed unwavering patience and support, and who have inspired us to take up this momentous task and continue forward. We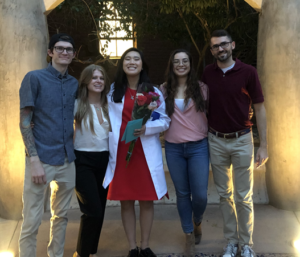 are incredibly thankful and grateful for your flexibility, kindness and humor that were and still are instrumental in carrying us through the tough times! I specifically want to thank my mom, dad, Tita (aunt), brother and Mr. Pogi (family dog) for all that they have sacrificed and continue to do to help me on this path. And lastly, I want to thank the University of College of Medicine – Tucson and my fellow peers for being incredibly flexible and resilient by responsibly wearing masks during the ceremony and getting vaccinated. All unmasked images were taken outdoors per CDC guidelines at the time.
Now, back to studying!
Coco Victoria Gomez Tirambulo, MPH is UA College of Medicine – Tucson MD/PhD Student and in the NIH Medical Science Training Program and a PCMS student member.
Click here to view some pictures from White Coat Ceremony Class of 2025. Click here to see a few more pictures Coco provided.